Flourish
e-Gift Card
Shopping for someone else but not sure what to give them? Give them the gift of choice with a Flourish e-Gift Card.
Gift cards are delivered by email and contain instructions to redeem them at checkout. Our gift cards have no additional processing fees!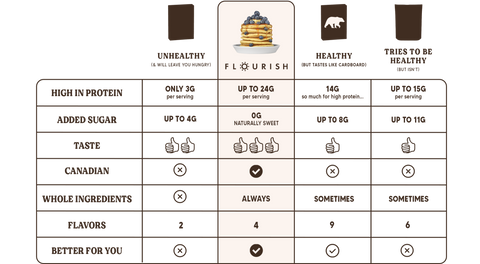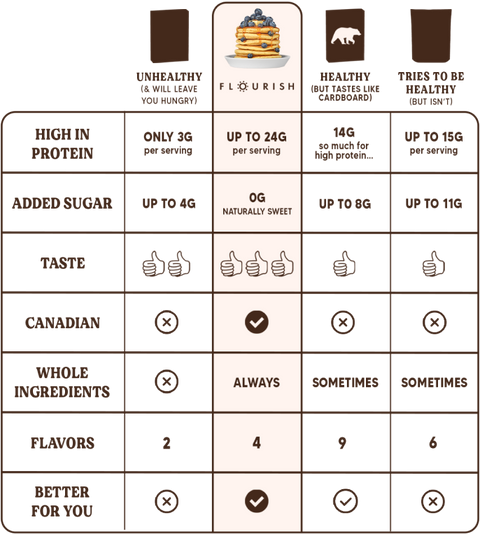 Frequently asked question
Our Whey-based High Protein mixes contain whey protein, which is known to be one of nature's cleanest forms of protein!

The protein in whey is made up of contents that are extracted from milk. Milk is made up of two proteins, casein and whey. The casein in milk is where the whey protein comes from. Whey protein can be separated from the casein or formed as a by-product of cheese making. When the water and casein are extracted, a whey protein concentrate is produced. Whey protein concentrate is very rich in BCAA's and Glutamine. The whey protein concentrate is micro-filtered with no heat treatment to produce extra pure protein.
Together, this ultimately makes whey protein able to help muscle protein synthesis, support fat burning, boost the immune system, improve insulin sensitivity, and decrease appetite. In addition, concentrate whey protein is also known to boost production of glutathione, your body's master antioxidant!
How many pancakes will I get per bag?
Each bag contains 7 servings of about 3 medium size pancakes each. That results in around 20-21 pancakes per bag!
Our Whey-based High Protein mixes contain whey protein, which comes from dairy.
However, our Plant-based mixes ARE dairy-free, gluten-free, and packed with 11g of protein per serving!
Our Whey-based High Protein mixes contain wheat flour, which contains gluten.
However, both our Plant-based and Keto products are 100% gluten-free and produced in a gluten-free facility.
All of our Whey-based High Protein mixes are 100% nut-free, however they are processed in a facility that may contain nuts. If you are severely allergic, please proceed with caution.